How do I make a wig using bundles?

How do I make a wig using your bundles?
We frequently get asked about how to make wigs using our Bomb Hair bundles and so we got an expert to break it down for you.
These tips and video below is helpful for making a lace closure wig or lace front wig. We call this the "Beginners Guide to Making a Wig: Wig Making 101".
Which Wig Type is Right for Me?
The first thing you need to do is make sure you know what kind of wig you`re going to make. There are 3 common types:
Lace Front Wig- Wig with an ear to ear 13X4 lace and bundles of hair extensions. No natural hair is exposed.  Frontals
Lace Closure Wig- Wig with a 4X4 lace closure and bundles of hair extensions. No natural hair exposed. Closures 
U-Part Wig - No closure or frontal piece- just bundles of extensions and own hair is worn out to cover the tracks. Extensions
Which Kind of hair should I use For My Wig ?
Now that you`ve narrowed down the kind of wig you`re going to make ask yourself what kind of hair do I want? There are so many options and the possibilities are nearly endless. Here are some hair types and styles to consider:
If you're asking yourself at this point what the difference between raw hair and virgin hair? No worries we`ve got you covered. Check out this article on Raw hair vs.Virgin hair.
Wig Making Supplies
Now that you`ve narrowed down the type of wig you will be making as well as the hair you will be suing you want to make sure you`re well prepared and have all the tools you need to make yourself a Bomb Wig!
You will need the following:
Wig head (mannequin head)
Hair (Sew-in Extensions)
Wig Stand or Tape
Needle & Thread
Adjustable Dome Wig Cap
Wig Combs
Wig band
Scissors
Lace Frontal glue (optional)
Bleach (if you are bleaching the knots on your closure or frontal).
These items can be purchase at your local beauty supply and Walgreens. You can also order them online.
Let's Make that Bomb Wig!
Step 1 – Set up
Mount your wig head on a wig stand or set it down on a chair or table with tape.
You want your wig head to be stable while you are making your wig for easier construction.
Step 2 – Prep
You have the option to measure and cut your extensions to fit the circumference of the wig cap while securing them down from back to front. If you're really good at sewing you wont have to cut the wefts and can instead fold them over. 
As you get mid way through your cap, start laying the tracks down in a more U-shape pattern.
Secure your hair extensions down by using needle & thread.
Step 3 – Which kind of wig?
Whether you're creating a lace frontal wig or closure wig you will want to lay the closure/ frontal piece down first and sew the bundles second. If you're not using a closure piece skip this step. 
Step 4 – Tracks/ Wefts/ Bundles
Begin to sew the hair down row by row with your hair bundles leaving an even amount of space between each track you lay down on your cap.
Step 5 – Wig Band
Add a wig band and wig combs to the inside of your wig to add security and make for a more snug fit to your wig when wearing it. The last thing you want is your wig slipping off while you're wearing it in public. 
Tip: Remove any lace  buy cutting it off if you are creating a frontal or closure wig.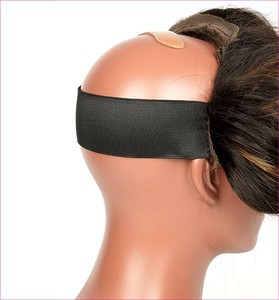 Step 6 – Style
Once your full wig is done its time to make it Bomb Dot Com! Use heat styling tools to curl it or straighten it. Even use scissors or shears to cut it or layer it. 
Recommendation: Color your bundles prior to creating the wig. 
 Take a look at this in depth video of how a wig is made using Bomb Dot Com Hair Extensions.